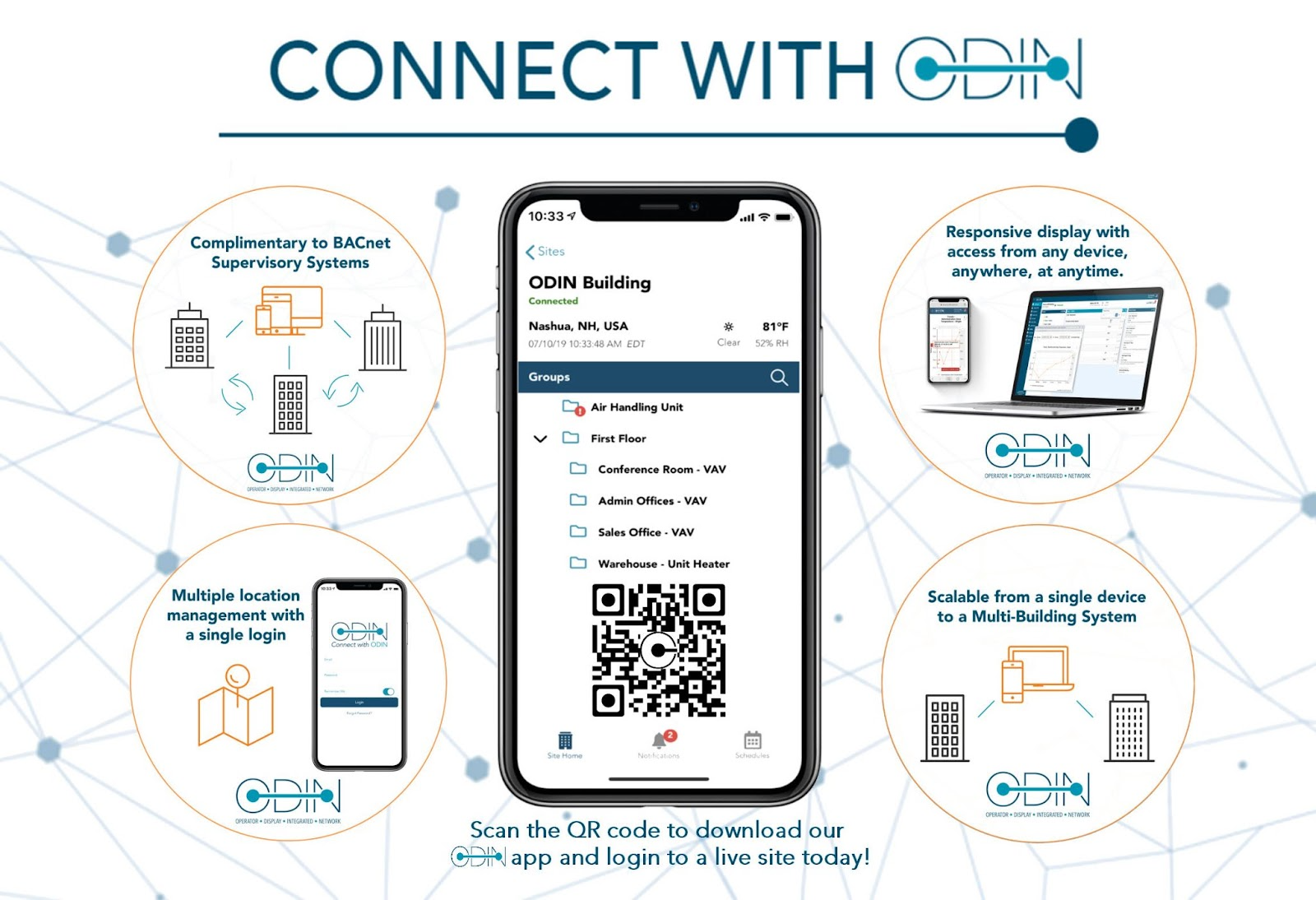 Building automation systems have many benefits for owners, facility managers, and occupants. Here are just a few of the things automation can do for your facility:
Lower maintenance and operating costs
Enhanced energy efficiency
Faster decision-making
Simplified asset management
Improved safety
Greater control
However, these building management benefits come at a cost; complex automation systems typically need a full-time technician or an expensive service contractor. What's needed is a simpler way to access building systems and track trends. This is the notion that led to ODIN.
ODIN is an acronym for Operator Display Integrated Network. The ultimate cloud-based building management tool, ODIN features complete SSL encryption security protocols that ensure data integrity and security.
A BACnet-certified building manager software like ODIN will seamlessly integrate with any BACnet-certified system. Its goal is simple; use remote building controls to help building owners and facility maintenance teams reduce costs, save time, improve performance, and speed up decision-making no matter where or what they're doing.
How ODIN Works in 5 Easy Steps
First, ODIN is installed on a computer that's connected to your building automation network.
That computer will then communicate with ODIN's secure cloud server, linking it to your existing automation system.
ODIN runs a search for and quickly discovers, any new or existing BACnet certified objects in your building system.
It configures discovered BACnet objects into custom groups that are easy to modify and control.
ODIN now provides remote access to your building from any computer or mobile device!
ODIN Makes Building Automation Accessible
Building management software has a reputation for complexity — and it's well-earned. The intricacy of many software platforms makes them difficult to operate for the average user. The installation, setup, configuration, and management of the system are well beyond the technical capabilities of most building owners. ODIN solves this by easily integrating with your pre-existing building automation system and providing an easy-to-understand and easy-to-control user interface.
A simple app you can access from your phone streamlines how building owners, building maintenance personnel, and facility managers control, monitor, and adjust their building's operation. Installation and setup are easy, and users can start accessing the user interface and comprehensive dashboard in just a few clicks. More importantly, this cloud-based solution means users have the freedom to access the user interface from the device of their choosing: smartphone, tablet, or computer, from any location with internet or Wi-Fi access.
ODIN Makes Building Automation Less Costly
Lighting is responsible for approximately 25 percent of the energy used in buildings. Heat, cooling, and ventilation account for 41 percent. Reducing energy consumption for any of these can provide significant cost savings and efficiencies, while also extending the service life of HVAC systems and equipment.
Achieving these benefits with a third-party service contractor isn't always easy. It takes time to book an appointment, time for service contractors to arrive, set up, adjust the system, and time to wait for results.
Situations like these were made for ODIN.
Typical building automation systems require a third-party technician to be onsite to diagnose and troubleshoot problems or make changes and adjustments. These specially-trained technicians and operators aren't cheap and they often have to use multiple logins to access the system.
Whatever changes or adjustments they make, only they will truly understand, and you'll have to take them at their word. ODIN delivers the same capabilities and more at a fraction of the cost, with full insight into what's going on, directly to your mobile device. With ODIN, you are in the driver's seat.
ODIN Makes Building Automation Simple
ODIN works so well and effortlessly because it's easy to install, set up, and use. If your existing building automation system is currently BACnet supported, and you're in the United States or Canada, then ODIN can easily be installed without an on-site technician.
The system can integrate multiple building systems through a single interface, giving you the ability to drive improvements at a moment's notice. The ODIN app is free, giving you access to a platform that allows for remote building controls anywhere, anytime.
Customize Alarms: Set alarms and notifications anytime something occurs outside your preset conditions.
Trends: Use trends to identify peak energy usage and compare periods of high and low energy use to find commonalities.
Unlimited Customizable Users: Give your team members access to the entire system or portion of the system depending upon their responsibilities.
User Interface: ODIN's user-friendly and mobile-optimized dashboard allows any registered user access through a desktop or mobile phone.
Convenience: With ODIN, you don't need remote access software or a VPN.
A Compliment to Existing Systems: ODIN immediately identifies any existing BACnet systems and protocols (schedules, alarms, trends) and improves upon them.
Getting Started is Simple
Ease of use and simplicity are our guiding principles. As a building owner, you can contact ODIN directly or reach out to your local reseller for a quote. The ODIN team will then provide a tailor-made solution and plan that meets your needs and that of your building.
Our local reseller will handle the installation and provide ongoing support and maintenance while you manage the ongoing ODIN subscription.
Cost-Effective, and Hassle-Free Solutions with ODIN Building Automation Systems
ODIN was designed with the building owner in mind. It's a scalable solution that is equally at home in small, medium, and large buildings. It simplifies complex HVAC systems and building automation software so that building owners, maintenance teams, and facility managers can drive improvements, reduce costs and improve efficiencies right from the palms of their hands.
If you want to learn more about how easy ODIN is to install and use, contact us now.